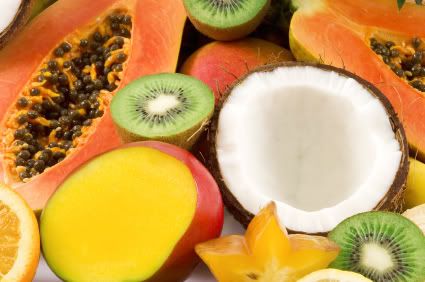 Helping athletes meet their workout needs is one of my favorite things to do. I used this recipe recently for a hands-on cooking class with Division I athletes.
Players who do hours of explosive activity need a good amount of carbs, preferably through natural sources. This fruit salad always gets rave reviews at potlicks, but the athletes, as well as coach's kids, love it too!
Ingredients
1 large papaya, diced
3 medium mangos, largely chopped
2 large bananas, sliced
½ cup large, flaked coconut
¼ cup of honey or 5-6 packets of artificial sweetener
½ tsp freshly ground cinnamon
1 tsp real vanilla extract

Directions
1.) Combine all ingredients in a medium-large bowl
2.) Stir until mixed

Nutrition (1/8 of recipe): 150 Calories, 35 g carbohydrates, 1.25 g protein, 2.25 g fat
Jean offers nutrition coaching for weight loss, muscle gain, or any of your personal goals at her office in the Alico building in downtown Waco, TX right in the heart of central Texas. She also offers personal training services at Ironhorse gym on the corner of Franklin and 17th, which is also very convenient to downtown Waco. Contact information can be found on her personal website.